For a long time, searching below the water surface was only possible by employing significant human and material resources. Previously there was no efficient method for searching, particularly at greater depths and large areas and searches often had to be called off without achieving a result.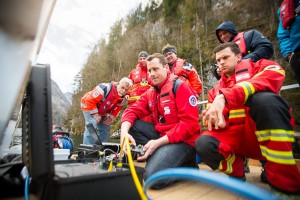 The use of our diving robot now opens up completely new opportunities because it can be operated in almost all conditions (ice, storm, rain, night, fog and currents) for several hours at depths of up to 200m. Dependent on the operational scenario, the robot can either operate completely autonomously or be operated in combination with Sonar boats and divers.
My long experience as a water rescue diver allows me to offer you the perfect search method for any scenario.
In any search, two things are particularly important:
Speed and efficiency
With a speed of 7.2 km/h, the diving robot is up to 6 times faster than a diver. This allows even large areas to be searched quickly. The integrated navigational solution ensures that 100% of the search area is covered. Where the search & recovery of larger objects such as aircraft wrecks or boats is concerned, our contacts to specialist recovery companies allow us to offer a one stop solution.